Now that the preseason has begun in earnest, fantasy drafts are happening everywhere (I've got one going right now, another Sunday, and a teleconference live draft at the end of the month), Seth is spamming us incessantly with stupid Seahawks fluffing, and the best four months of every year have come into sight, it's about time for the first annual TGWNA NFL predictions post. Yeah, predictions are stupid, but what else do you want me to post about? The Phillies?
I was going to go team-by-team, but really, who gives a dead pitbull's ass about squads like the Dolphins and Chiefs and the entire NFC North? Instead, I'll just offer up my playoff brackets with brief blurbs and then some assorted musings. Then I'll wait for Diesel to disagree for all sorts of incoherent and irresponsible reasons. I'm also only doing the NFC, in hopes that he'll take care of the AFC, home of his beloved Bills/Chargers/whatever other team he's decided to adopt.
NFC Division champs:
North: Lions.
I'll start this off with a bang. No, I'm not just pandering to B! (If I wanted to do that, I'd get a tan.) I know, I know -- it's the Lions! But they have a solid veteran at QB, four or possibly five decent options at running back, the deepest receiving corps in football, and ... well, one of the worst defenses in the league. But I think Martz can do the same thing he did in St. Louis -- I mean the brief success, not the general assholishness (actually, I guess I mean both) -- and win a terrible division with a bad defense. The winner of this division might well go 9-7.
East: Eagles.
Yeah, I'm a homer. But they have the best QB, RB, and O-line in the division, as well as what was statistically the second-best D (by a hair) in an off year. They drafted well, Kolb notwithstanding, and they finally fixed the linebacker situation. They also added more depth to the D-line with Scott, Reagor, and Bunkley, who barely played as a rookie but is penciled in to start. The only person they lost is a fast receiver who plays nine games a year, and they replaced him with a more durable, if probably less talented, option. They won the division last year without D-Mac, and they did it in resounding fashion, by kicking the living shit out of the Cowboys twice. If D-Mac stays healthy -- a big if -- they're the best team in the NFC. If he gets injured, they probably make the Wild Card with Feeley or Holcomb.
South: Saints.
They have the best offense in their division -- probably the best in the NFC -- and they're well-coached. I don't think they'll be as good as they were last year, because their defense still has some pretty gaping holes (namely, Mark Simoneau and most of the secondary). They'll also lose some of their feel-good story vibe. But I don't buy the Panthers -- never have -- and the Bucs and Falcons won't seriously threaten.
West: Rams.
Exactly who we thought they were. A turf team with a bad defense and probably the best all-around RB, QB, and WR in the NFC. But the Niners are still a year away and the Seahawks are two years past their sell-by date. And the Cardinals are still the Cardinals.
Wild Cards:


Cowboys
-- If an aging Philly team breaks down, they'll win the East. They might anyway. They have all the pieces to be the class of the NFC, provided Romo returns to the form he showed the first half of last season.
Niners --
Yes, they're still young, and yes, their defense has some issues. But they've drafted well and filled holes with free agents. I'm not sure Banta-Cain is the answer at LB, and I'm positive Michael Lewis isn't at SS -- ask me how I know -- but Clements gives them a shutdown corner, which they badly needed. Maybe the Panthers and/or Seahawks are better, but I'd rather go with the young, unproven team than a pair of teams that have proven to be too old.
Who's going to Chandler? My head says Dallas, but I'll take the Birds.
Regarding Donovan McNabb:
Since I just picked the Eagles to go to the Super Bowl, and since this is what everybody always asks me when they find out I'm an Eagles fan (now that TO is thankfully long gone), I'll weigh in briefly, although I've covered all this shit for the last two seasons on my other blog. Diesel and I just finished discussing this as it relates to our fantasy draft -- it started with my observation that D-Mac is invariably taken two rounds too early for a 31-year-old QB with a significant injury history, and then he said projecting possible injuries is a fool's errand, which is
news to me
, and then proceeded into me trying to convince him for five minutes that I didn't want to take Willie Parker, in vain hopes of him falling to me on the rebound pick. Of course, I wound up taking Willie Parker. Diesel's not a sucker for the sweet talk unless you get him high off hash.
(An aside: I recently moved to California, and last night I had an experience which cemented California, for me, as the land of sunshine and bliss and opportunity: I smoked prescri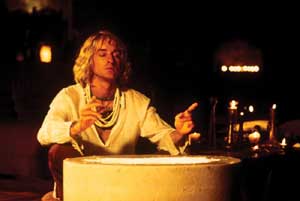 ption marijuana. Out of a
vaporizer
. And God bless me if it wasn't wonderful. I haven't gotten high on a regular basis since about 1995, and back then it was dirt weed and cored apples or bent Coke cans. This is an entirely different experience, my friends. Changed my whole perspective on shit. I gotta get me a prescription.)
Anyway, here's the thing with D-Mac: theoretically, this could be the year. He's been on an MVP-level pace for the last three years, when he's been healthy. He's put up
some stretches
in which he's been among the most effective quarterbacks, statistically, in NFL history. If he did that for a whole season, like he did in 2004, he is literally capable of having the greatest single season by a QB ever. He's got that kind of talent, and has for a while now. He also has his best receiving corps ever this year.
But that's in theory. In reality, he's finished two years out of the last five, and he was (supposedly) shaken up in the final game of two others. Early in his career, he got injured a lot because he ran a lot and took hits -- hence the broken leg, the thumb, the sternum problems. Legit stuff. But then two years ago he got a sports hernia sometime in the offseason. Last year he blew an ACL running out of bounds practically untouched. Maybe he put on too much weight -- please, Seth, can we get another insightful comment about how "fat" he is? Or are you saving that for his blog? -- or maybe he's just been unlucky. Either way, all you can really count on out of him is that
he'll be ridiculous for the first ten games
.
Whether he'll have a successful season will come down to one thing: the Eagles' run/pass ratio. The main reason I hate Andy Reid and probably always will, even though he revived my favorite franchise and has won something like 65 percent of his games as head coach, is because his play selection defies any kind of logic or reason. When McNabb was trying to play through the hernia, he threw the ball 70 percent of the time. On third and goal from the 2, he runs play-action passes. He just hates to run the ball.
If he finally pulls his head out of his prodigious ass and runs the ball even 45 percent of the time -- still not exactly conservative -- then McNabb could be your MVP, and the Eagles could make the Super Bowl. But judging by precedent, I'm predicting he doesn't. McNabb will somehow get hurt, the backup (Holcomb or Feeley) will play pretty well for a few games, the Eagles will make the playoffs in an average division. From there it's a crapshoot.
The Seahawks --
OK, Seth, you wanted more Seahawks talk. Here's what I think: Matt Hasselbeck and Shaun Alexander have both played their best football. (Also, real quick: tell me who the best Seahawks receiver is. It ain't easy to do, and I don't mean that as a compliment.) Alexander's breaking down already, will be 30 in two weeks, and has a ton of miles on him -- Bama ran his legs off even before his rookie year. They could both have enough left in the tank to get the Hawks to the playoffs, but even that isn't a guarantee. With the resurgent Rams and Niners, they can no longer pencil in five wins against a terrible division.
If I had to predict, I'd say 9-7. That might get them a Wild Card -- it might even win that division -- but I don't see them making the NFC championship game.
The Panthers --
Somebody explain to me why people still think the Panthers are a good football team, three full seasons after they made that improbable run to the Super Bowl? They've made the playoffs exactly once since then, as a Wild Card, and they beat two pretenders to earn the honor of getting trampled by the Seahawks back when they were good.

Jake Delhomme shares more than a first name with Jake Plummer. They have two running backs with lots of potential, but nobody on their roster has ever rushed for 1,000 yards. Their defense is good, including a great D-line, but as a unit they're hardly elite -- they ranked seventh last year, just ahead of the Vikings. Yes, Steve Smith is an animal, but who cares? He's a wide receiver!

It pisses me off that people always mention the Panthers in the preseason, as if they're some kind of contenders. They'll be lucky to make the playoffs, even in that division.



Apropos of nothing:

I had the Packers penciled in to win the North most of the time I was writing this post. I don't know why, but I kind of think they might be good.

You're up, Diesel.